| | |
| --- | --- |
| Сountry of origin | Italy |
| Brand | Nuova Simat |
| Purpose | Bolt induction heating system |
| Power | 25 KVA |
| Frequency range | 5 ÷35 KHz |
| Supply | 400V AC-3PH-50Hz (60Hz) |
| Electrical plug | 32A 3P+E |
| Weight | 205 Kg |
| Dimension | 1000 x 830 x H 1000 mm |
Overview
A magnetic induction heating unit for tightening and loosening hollow bolts, tie rods, nuts and more.
It is particularly suitable for Oil&Gas Application (eg. Steam Turbines, Compressors).
All-in-one
Differently from other bolt induction heating machines, Helios-35 is all-in-one. Apart from being really compact in dimensions, it doesn't' need huge external cooling chillers to make it work. It simply relies on an internal cooling system, which guarantees long hours of continuous functioning.
User-friendly and upgradable operating system

It doesn't matter if you are using linear or ring-shaped inductors. Setting the operating parameters is a breeze. Thanks to the new graphic colour display, the setting procedures are guided and easy-to-read so that the functions of the machine can be easily managed.
Training for the operators
We provide specific training courses to explain extensively the system and make the most out of the potential of our bolt induction heating machines. The training course is held only by one of our specialized technicians independently of location.
How does it works?

Inductors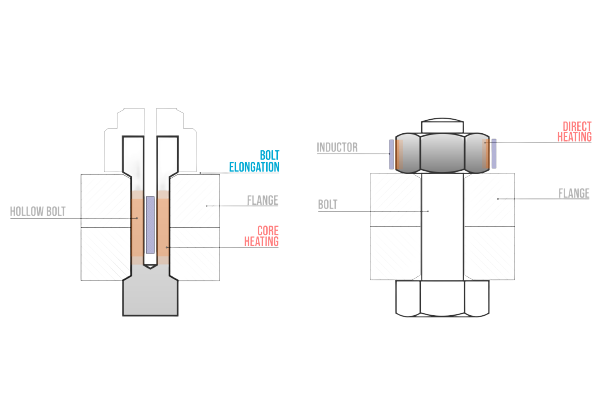 Common application
The common bolting operation involve axial inductors, which are applied on turbomachines casing or inserted in hollow components found in Power Gen industry. Common dimensions range starts from 9mm in diameter and 35mm in length.
Encoding and Customization
it is possibile to provide us a list of inductors by fullfilling a check-list. Independently from the shape of the inductor, if ring-shaped or axial, it is possible to custom-build each of them so as to perfectly fit the specific application. Customization aims not only at external dimensions but also to specific heating requirement.